Do you want to learn Korean while you work out, eat lunch, or commute to work?
Thanks to Korean podcasts, immersing yourself in the Korean culture and language has never been easier.
The best thing about Korean podcasts is that you can learn the language by listening to topics that are relevant to you, which makes the experience more fun and meaningful. Below, you'll find the best Korean podcasts for learners of every level.
→Sign Up Now: Free Trial Korean Lesson With a Native Speaker Teacher!←
Korean Podcasts for Beginners
Are you looking for a comprehensive Korean course? KoreanClass101 offers 1,500 audio and video lessons, each around 10-20 minutes long. You can choose the "absolute beginner" mode or opt for intermediate and even advanced resources.
KoreanClass101 takes the "podcast for learning" to a whole new level by including flashcards, a mobile app to help students keep track of their learning progress, and downloadable PDFs for every class.
You can start with 3-Minute Korean, a series of 25 lessons that teaches you all the basics, from introducing yourself in Korean, to ordering at the restaurant and knowing how to answer the phone.
Another one of our favourite units is Culture Class: Essential Korean Vocabulary, which introduces you to basic day-to-day vocabulary as you learn about Korean culture. You will delve into topics such as national holidays, and pop and traditional culture, which will bring you closer to the Korean lifestyle.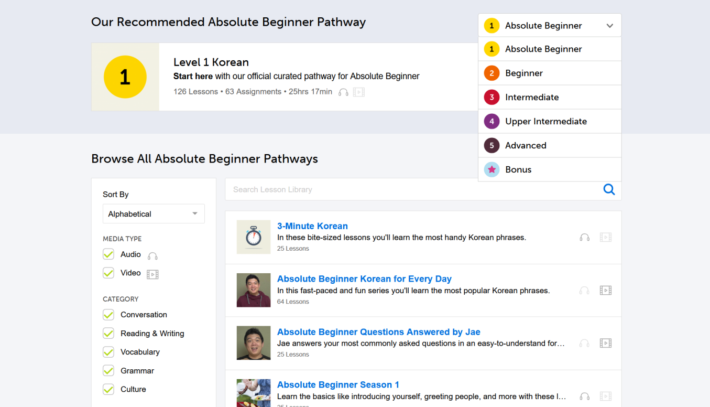 Though KoreanClass101 is not free, you don't have to pay to enjoy the first lessons of each unit, and there's a 7-day free trial available if you'd like to try the other episodes. Plus, they often offer discounts on their already affordable subscription of only $8 per month. If you're really invested in learning Korean, this is a great deal!
In the past, people who wanted to learn a language had to buy a textbook and attend a language school. Today, there are many different ways of achieving fluency in a new language. If you want to learn Korean, you can listen to our favourite Korean music playlist, watch Korean drama TV series on Netflix, or listen to a great podcast.
The Survival Phrases podcast is all about everyday phrases that might save your life if you're a tourist in South Korea.
This podcast consists of 60 lessons that total 6 hours and 15 minutes of Korean content for beginners. You will start learning phrases such as "thank you" and "you're welcome" and work your way up to the most useful business phrases and high-frequency adjectives.
It includes expressions like hwajangsil-i eodie issnayo? (Where is the toilet?) and eolmayeyo? (How much is this?). Though there is no advanced material on this podcast, it is a truly great resource for beginner learners who want to learn essential Korean in real-world contexts.
Korean Podcasts for Intermediate Students
If there is a chance you might have heard about a Korean podcast before, it will probably be Sponge Mind. This popular language-learning podcast offers engaging, dynamic lessons that are recorded both in Korean and in English.
What does this mean for language learners? That you can listen to each episode in English first in order to get familiar with the content. This will prevent you from getting too anxious once you hear the Korean version, as you won't need to understand every word in order to keep track of what the hosts are saying.
Mind you, Sponge Mind doesn't offer traditional lessons, but discussions on interesting subject matters, especially related to language learning. It's the perfect podcast for intermediate learners who are already quite fluent in the language but are looking for more authentic exposure.
One of our favourite episodes is "Three Things We Can Learn From BTS", ideal for K-Pop lovers who want to boost their skills by listening to their idols. Another great one is "Language Insecurities", which discusses how practically every language learner feels that their skills are not up to par, and gives you some tips to improve your confidence.
Learning Korean has never been more useful or relatable. On Jonghuyn's Blue Night, which ran from 2014 to 2017, Jonghuyn listened to people's personal problems – especially those related to their love lives- and offered insightful, often hilarious advice.
Jong-hyun, the host, was also a K-Pop idol, known as the main singer of the South Korean boy band Shinee, with whom he released twelve albums before his early demise in 2017.
While listening to his show might still be a bittersweet experience for K-Pop fans, it remains a great podcast to learn colloquial Korean from a relaxed, unstructured place.
This podcast will help you practise helpful vocabulary for your everyday life, such as 나는 당신을 추천합니다 (I recommend that you…), 내 조언은 (My advice is…), 당신은해야 (You should…), among many others.
Korean Podcasts for Advanced Students
If you are looking for a Korean podcast you can listen to when you want to chill out, this one is guaranteed to make you laugh!
나는 꼽사리다 discusses the everyday news from Korea in an engaging way. The hosts are always making jokes and exchanging some playful banter while discussing the episode's topic. In this way, you will be hooked and feel like you are in a conversation with your friends. On top of this, you will also learn vocabulary you can use when you interact with your Korean friends to sound more natural.
While some episodes last about two hours, there are others that you can finish in 10 to 15 minutes. In this way, you can pick the one that best adapts to the time you have available.
The only downside is that this Korean podcast is not updated very regularly. Still, there is plenty of material for you to explore while you wait for the following episodes. You can listen to it on Apple Podcasts and Spotify.
Are you looking for fun ways of learning Korean? There is a podcast that is every bit as entertaining as the best Korean YouTube channels.
Messy Love is hosted by MC Jang-won, a popular Korean comedian. Together with her panel, she interviews guests with different occupations, from regular people to celebrities and reporters, and discusses love and romance from their perspectives.
This is a very light-hearted show, ideal for those who want to listen to some comedy and have fun while learning Korean on their commute.
While you listen to it, you'll learn lots of vocabulary, particularly slang and idioms, related to relationships and dating.
They release several episodes per week, so you'll have plenty of material to sink your teeth into!
As you can see, there are plenty of Korean podcasts to learn Korean while you do other things. From structured lessons for beginners to entertaining talk shows, there is a wealth of audio learning materials out there for every level and learning style.
→Sign Up Now: Free Trial Korean Lesson With a Native Speaker Teacher!←
While podcasts can boost your listening and pronunciation skills in Korean exponentially, to achieve real fluency you are going to need to practise speaking with a real native who can give you feedback and help you improve. Ideally, it should be a qualified teacher! To find out more about our Korean tutors and take a free trial class, why not contact us now and get started?