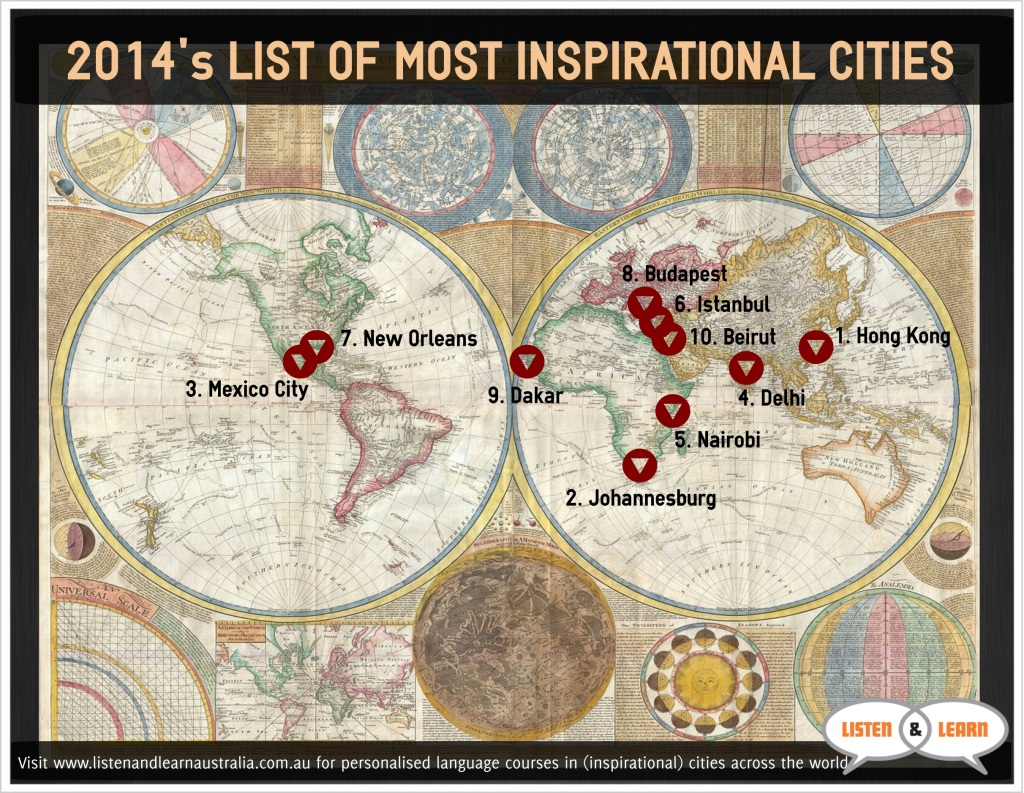 We've all seen endless rankings of cities according to various criteria: 10 Best Cities To Visit in 2014, 10 Most Dangerous Cities, The World's Most Expensive Cities, and so forth. But GOOD Magazine has come out with a unique, and downright fantastic way of looking at our urban living spaces: the GOOD City Index of the World's Most Inspirational Cities.
Instead of looking at factors like GDP, cost of living and so forth, or superficial criteria such as most beautiful, the good people at GOOD decided that the best way to measure the real pulse of a city is to look at its possibilities and potential.
So what does this mean exactly?
It means what we have is a list of 50 cities that are often controversial, contradictory, and most certainly not problem-free, but are brought together by their flourishing possibilities. This potential is created by innovative citizens and movements that are doing their bit to solve issues in their cities in creative and collaborative ways.
The Measurement Tools:
The ranking uses eight categories to see what projects are being created to improve the life of the city's inhabitants. In this way, the future potential of the city can be imagined, through the actions of forward-thinking communities.
The index used the following framework:
Hub for Progress
Examining the improvements to civic life, not on a grand scale, but small, meaningful changes that allows citizens a voice towards change.
Civic Engagement
Policies and movements to improve the engagement of citizens.
Street Life
Recognising a vibrant street life, and life outside of corporate and consumer culture.
Defining Moment
How moments of crisis have served as a catalyst for positive change.
Connectivity
Fostering connections between people.
Green Life
In praise of a harmonious relationship with nature.
Diversity
Embracing people of all cultures, backgrounds, beliefs and ethnicities.
Work/Life Balance
Recognising a healthy lifestyle needs a healthy balance.
What these indicate is where the heartbeat of the city is, and they open a window to the possibilities of change and improvement.
The Top Ranking Cities:
So who made the cut? The list names the 50 most inspirational cities in the world, although only the top 20 are discussed in detail. Topping the list is Hong Kong, followed by Johannesburg and Mexico City, Delhi, and Nairobi.  Also in the mix are Istanbul, New Orleans, Montreal, Melbourne and Berlin – showing just how diverse the chosen cities are.
What stood out on the list were the cities that had found innovative ways to deal with difficult circumstances. Some regions showed a particular affinity for this.
Latin America is Looking Up
Latin America performed quite well this year, with three cities making it on to the top 20. Despite Mexico's turbulent year, or rather as a result of it, Mexico City was recognised for its Defining Moment: the response to the disappearance of 43 students. While this incident did not take place in the city, the chilangos still rose up in huge numbers, not only to protest, but to take to social media using the hashtags #Ayotzinapa #casoiguala and #iguala to raise awareness.
Further south, Buenos Aires, Argentina, was applauded in the Hub for Progress category for using their financial woes to turn the city into a Bitcoin hub. Meanwhile, their neighbours, Santiago, Chile, have been trying to improve work/life balance by closing a number of streets to cars on Sundays, to encourage people to get out and get active. They have expanded this system in 2014 to reach more people, creating a more balanced life for more.
If you're travelling to these Latin American cities, speaking the language will give you greater insight into these innovative communities.  Take a Spanish level test before you go to check your competency!
A+ for African Progress
Africa also fielded three cities on the list. Not to be outshone by Cape Town, the darling of tourists to South Africa, Johannesburg was the city to shine at number 2. The city has been undergoing robust rejuvenation, particularly downtown, with a dedicated plan to promoting Newtown as the cultural hub. Working with local business and artists, this area is seeing a great revival, and is attracting people back into this neighbourhood.
In Kenya, Nairobi's solid wifi penetration has enabled a high level of civic engagement. After the tragic Westgate attacks, a Google Doc called #WeThePeople was made available for inhabitants to not only voice their concerns, but to compile these questions for their government in one place, creating a much stronger voice for the people. Meanwhile, in Dakar in West Africa, Senegal's incredible response to the Ebola crisis through education and sanitizing stations meant that the entire nation was declared ebola free by the WHO, despite its proximity to Ebola-stricken Liberia and Guinea.
In a sea of bad news on the continent, these examples show the too-often untold stories of progress and innovation across Africa.
Inspiring Asia
Across Asia, there have been more inspirational stories this year. Hong Kong's display of mass civic engagement in late 2014, a quest for a deeper democracy in light of Chinese intervention, earned them the top spot on this year's list of Most Inspirational Cities. The 'Occupy Central with Love and Peace' movement has sprung a number of other initiatives, such as the Umbrella Movement Visual Archive and Research Collective which tries to record protest art, since the green-conscious protesters are careful to use things like washable chalk, in a show of respect to the property.
Elsewhere on the continent, Delhi, India, has made good strides in terms of diversity, as they attempt to make it easier for migrants to get documentation. A new digital program is being launched to connect villages to the Internet, giving them electronic access to their documents and social services. The program is so promising that Mark Zuckerberg has flown in to discuss how Facebook can help with this.
Finally, Seoul, South Korea, a place famed for the strict work ethic it enforces thanks to tough competition to get into universities and jobs, has made good strides to improve work/life balance. In October, the city hosted a "Spaced Out Competition". The rules? To do absolutely nothing except keep a steady heart rate.
This example, and so many others on the list, gives us an alternative narrative from the barrage of bad news stories we are used to reading across the world. It's hard not to be at least a little bit inspired by examples set by these cities.
A Deeper Way To Travel And Work
This framework to look at cities and countries moves away from the negative and superficial to find the little pockets of progress that indicate a brighter future. It's certainly a much more productive way to look at the world.
It also provides us with a lesson to rethink the way we interact with other communities and cultures, instead of simply lauding our own as better. Part of this comes from communicating more meaningfully with others. And what better way to do that, than by learning a new language, or improving your second (or third!)? Contact us to find out more about language courses in your area, and open up even more possibilities!