Depending on your perspective, Taipei's night markets are either popular tourist destinations or mundane features of everyday life.
The stereotypical Taipei night market (yèshì 夜市) is a combination of North American farmer's market, flea market, and low-budget amusement arcade, while sharing similarities with a souk (Arabian Peninsula), bazaar (Middle East), mercado (Spain), tianguis (Mexico), and/or palengke (Philippines).
There are three qualities or characteristics all Taiwanese night markets have in common – regardless of their locale. If they don't have these three things happening, they aren't night markets.
They open sometime after 4:00 p.m.*

There is food involved, including but not limited to snacks

Stuff is cheap
* By "open", I mean: things start to get cookin'; some vendors in the night market are actually open all day and evening
Taiwan's night markets are "famous" for the mind-boggling selection and speciality of certain snacks, known as (小吃; xiǎochī – pronounced shao-chur). These local delicacies may include: grilled Taiwanese sausages, fried chicken steak (雞排; jīpái), assorted kebabs of questionable origin, spring onion pancakes, pan-fried dumplings, oyster omelets, grilled squid, shaved ice with fruit compote, and of course, bubble tea.
Meanwhile, available space is occupied by shops and vendors hawking cell phone accessories, men's suits, socks, luggage, jewelry, toys, cutlery, and so on and so forth. Ironically, almost nobody goes to the night market to do any serious shopping.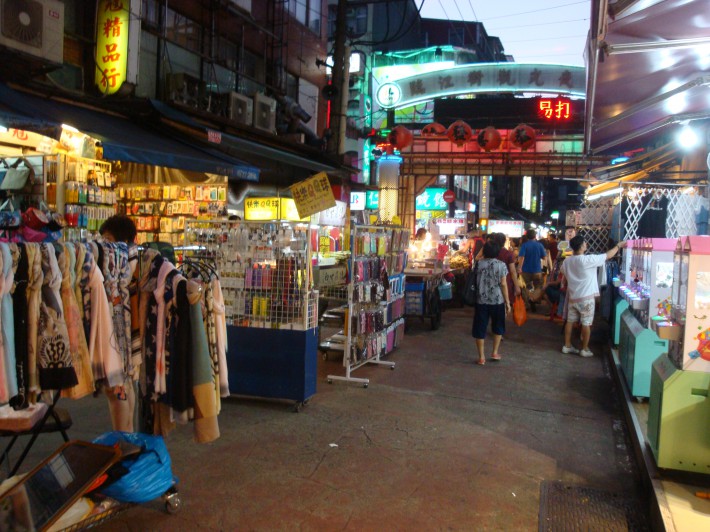 Taipei City has at least 17 "official" night markets, plus at least half a dozen "secret" or lesser night markets, and the enormous Wufenpu Clothing District, which takes on a night market feel at dusk. Generally speaking, the night market mood is casual and congenial. Although, I believe if you've seen one night market, you've seen them all, each market varies in size, shape, charm, character, and appeal (or lack thereof).
Some of the more popular night markets (in Taipei City proper) include:
Shilin Night Market, Shilin (士林夜市) – Massive, sprawling, overwhelming communion of commerce and entertainment; by far the "number one" night market in Taipei, useful for its crash-course in Taiwanese crowd navigation.
Ximending Pedestrian Area, Wanhua (西門町步行區) – Technically, an enormous open-air shopping mall with many of the night market characteristics; called the "Harajuku of Taiwan" for its moderate to heavy Japanese influence; it's THE spot for the young and trendy.
Ningxia Night Market, Datong (寧夏夜市) – One of the smallest markets in town, but also the most food-centric; kind of a blink-and-you-miss-it type of venue, but home of my all-time favorite night market snack: The cheesy barbecue seafood scallop (起司烤海鮮貝; qǐ sī kǎo hǎixiān bèi) which has the consistency of a baked potato (see photo) and all the delightful flavor its name suggests.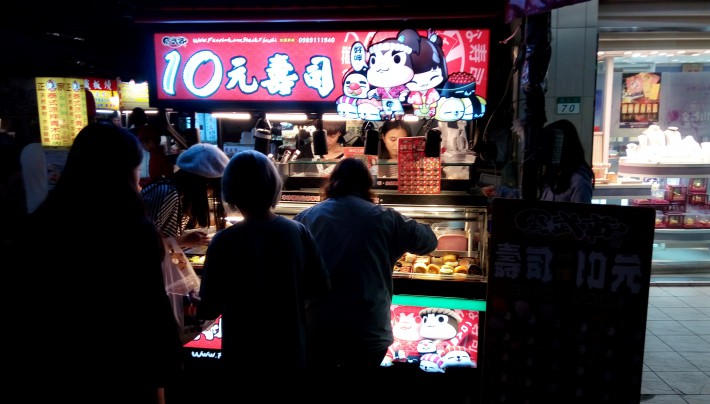 Raohe Street Night Market, Songshan (饒河街觀光夜市) – One 600-meter, lively stretch of shops and vendors, with lots of weird stuff in the alleys; if you hit this market and no other during your visit, you've done well.
Dalong Night Market, Datong (大龍街夜市) – Located in what's considered the "old" or "historical" part of Taipei, this is the place you go for Chinese medicinal herbs, handcrafted trinkets and whatnot; during the daytime, it's also the site of many traditional-type ceremonial situations with "music" blaring from a flatbed truck.
Gongguan Night Market, Zhongzheng (公館夜市) – Across the street from National Taiwan University (NTU), Gongguan caters more to the student crowd; loads of cheap snacks and shoe stores.
Guangzhou Street Night Market, Wanhua (廣州街夜市) – Situated in the ad hoc Red Light District*; the greasiest, most unsavory spot in town; I wouldn't eat here for any reason.
* Prostitution is theoretically illegal in Taiwan, but you wouldn't know that from rolling up on the Wanhua District
Huaxi Street Tourist Night Market, Wanhua (華西街觀光夜市) – This used to be the infamous "Snake Alley" where tourists were treated to live snake shows and shots of snake blood; nowadays, it's still as greasy as Guangzhou Street, but you hardly see a snake, let alone some other kind of lizard in a cage; however, I'm told you simply ask a proprietor for the "special menu" and you'll be on your way to some roasted amphibian.
Jingmei Night Market, Wenshan (景美夜市) – Strong local feel, as in, you can smell the joint before you see it; famous for a stall that sells smoked goose, a rarity in town.
Tonghua Street (Linjiang Street) Night Market, Da'an (通化街夜市) – My personal stomping grounds and one of the more pleasant if not limited street markets in town; home of the original roadside sushi vendor (see below).
Meanwhile, not terribly far outside of Taipei City limits, you'll find the following markets in New Taipei City:
Keelung Miaokou Night Market, Ren'ai (基隆廟口夜市) A 40-minute bus ride from Taipei; Miaokou is the port of Keelung's main night market, featuring over sixty registered food stalls; otherwise, it's no more or less lively or interesting than the average market in Taipei; however, the seafood is understandably fresh.
Tamsui Night Market, Tamsui (淡水夜市) Located on the bucolic shores of the Tamsui River, the market is a 30-minute haul via MRT, but well worth the trip; several establishments along the boardwalk are among my favorite drinking spots.
Lehua Night Market, Yonghe (樂華夜市) and Xingnan Night Market, Zhonghe (興南夜市) I often dare people to describe the difference between Yonghe and Zhonghe, and so far nobody has succeeded; same goes for their night markets; there is no reason to visit either of these markets unless you happen to find yourself in Yonghe or Zhonghe.
In Part 2, we'll look at things to bring and consider before visiting a night market. Stay tuned!