A few months ago, I shared my thoughts on whether Spanish would take over in America. While I concluded that English was unlikely to be replaced as the main official language in the US, it is undeniable that Spanish will continue to gain popularity over the next few years. As a result, studying Spanish is not only a must for those who want to pursue a career in Mexico or seek new opportunities in Spain — in today's globalized job market, learning Spanish is crucial to doing business in the US as well. Below, you will find a list of useful Spanish phrases for business to help you make a great impression in your next multilingual videoconference.
→Sign Up Now: Free Trial Spanish Lesson With a Native Teacher!←
Greetings
While most Spanish-speaking people who are involved in business will usually speak at least basic English, greeting co-workers, clients or potential partners in their own language is a nice way of showing that you are also willing to roll up your sleeves and make an effort to achieve mutual understanding.
Hola a todos – Hello, everybody.
This is a nice, rather informal way to greet a big group of people, which makes it ideal for big online or in-person meetings.
Nowadays, some people are starting to use more inclusive linguistic forms to acknowledge that there are also women and non-binary people in the room. Since "todos" is grammatically masculine in Spanish (unlike 'everyone', which is a neutral form) you may hear other variants like "Hola a todos y todas", or even "Hola a todes" a neologism that encompasses all identities: masculine, female, and non-binary.
¿Cómo están? – How are you doing?
Notice that, in Spanish, there are two verb forms for 'you'. If you're talking to an audience of two people or more (plural 'you': ustedes) you would say: "¿cómo están (ustedes)?" However, if you are talking to a single person (singular 'you': tú), you would say: "¿Cómo estás (tú)?"
Buen día – Good morning
This common greeting, which literally translates to "good day", is a perfect equivalent for "Good morning", which means you can use it until about noon.
Buenas tardes – Good afternoon
In Spanish, there is no distinction between 'afternoon' and 'evening', at least not when it comes to greetings! You can safely use "Buenas tardes" from 1 pm until 9 pm, no matter what season it is where you are.
Buenas noches – Good evening/Goodnight.
In English, it is very common to say "Good evening" when you step into a restaurant, and "Goodnight" as you leave it. In Spanish, however, you can use "Buenas noches" both as "hello" and "goodbye". As long as it's dark, saying "Buenas noches will always be appropriate", whether you're going to bed or you've just joined the party!
Introductions
If you're talking to someone for the first time, it's always nice to start by introducing yourself, and kindly inviting everyone else to do the same.
Mi nombre es ………, soy el nuevo programador – My name is ……….., I'm the new programmer
Say who you are and what your position is in the company.
Notice how Spanish people use "es" for "my name is", and "soy", for I am".
Es un gusto conocerlos/as/es – It's nice to meet you
If you've just been introduced to a new group of people, use the Spanish phrase above to express how delighted you are to make their acquaintance. If you're talking to people you've seen before, just say "es un placer saludarlos/as/es" (It's a pleasure to greet you).
¿Con quién (plural: quiénes) tengo el gusto de conversar? – Literal translation: With whom do I have the pleasure of speaking?
Use this Spanish phrase to kindly invite someone to introduce themselves. If you are specifically interested in their position in the company, you can also ask "¿En qué área estás tú?" (What area do you work in?)
Negotiations
Time to start the meeting! Use the following Spanish phrases to be active during meetings and videoconferences in Spanish.
¿Qué les parece si…? – What do you think about…?
Whether you want to make a proposal, change the subject, or just ask everyone to focus, use this expression to catch everyone's attention. You might use it in longer phrases like:
¿Qué les parece si bajamos el precio de los productos de la temporada pasada?
What do you think about lowering the prices for last season's items?
¿Qué les parece si nos concentramos?
Shall we focus, please?
¿Qué les parece si pasamos al siguiente tema de la lista?
Shouldn't we move on to the following point in our list for the day?
Creo que tengo una mejor idea – I think I have a better idea
It may not be the best thing to say if you want people to like you, but sometimes you just have to use it. If you feel you have a great contribution to make during a business discussion, use this Spanish phrase to introduce your point.
Estoy de acuerdo – I agree
If you want to acknowledge someone else's arguments or ideas, say "estoy de acuerdo" to show your support.
Now, can you guess what you should say if you don't agree with a colleague's point?
Exactly. All you have to do is add "no" at the beginning: "no estoy de acuerdo". Let's see more examples:
Las proyecciones para el 2023 (no) son muy positivas.
Projections for 2023 are(n't) very positive.
Creo que (no) deberíamos quedarnos de brazos cruzados.
I think we should(n't) just sit still and do nothing.
(No) tengo una propuesta.
I (don't) have a proposal.
Me gustaría escuchar qué tiene para decir ……… – I would like to hear what ………. has to say
Have you noticed that one of your coworkers is a bit quiet? Maybe they are just feeling a bit shy today. But they may also think no one really cares about what they have to say! Use this Spanish phrase to bring them into the conversation. Just make sure your tone is friendly and inviting as opposed to… you know, quizzical.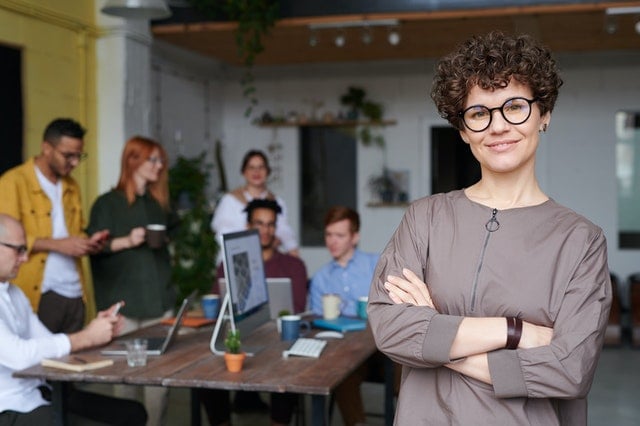 Solving communication problems
Sometimes, despite everyone's best efforts, you just have to admit that you're getting a bit lost in translation. If you come across linguistic problems during a meeting, resort to the following Spanish phrases:
¿Puedes repetir? – Can you repeat?
If you're lucky, hearing specific phrases for a second time will be enough to put you back on the right page.
¿Puedes hablar más despacio? – Can you speak more slowly?
Sometimes, communication problems arise not because you don't know the words your interlocutors use, but because their delivery is just too fast. Use this phrase to ask your Spanish colleagues to slow down.
¿Qué significa ……..? – What's the meaning of……..?
It may also happen that you come across a specific word or concept whose meaning escapes your grasp. If this is the case, don't hesitate to ask for clarification.
¿Puedes decirlo en inglés, por favor? – Can you say that in English, please?
OK, time to accept defeat. if after exhausting every other resource you're still not sure that you are following the conversation, just ask your colleagues to switch to English. They will surely appreciate the efforts you've made so far and start speaking in your language.
After work
Success in business does not always depend on finding the best deal or cracking the latest marketing trends. Sometimes, it all comes down to interpersonal relationships. The better you get to know your clients or investors, the more they will want to do business with you. Use the following Spanish phrases to improve your rapport with co-workers and potential partners.
¿Quieres ir a tomar un café? – Would you like to go grab some coffee?
If communication at the office was a bit stiff, having an informal chat in a relaxed environment might be exactly what you need to bring a bit of spontaneity to the workplace.
¿Cómo está tu familia? – How is your family?
Use this Spanish phrase to show people that you care about them as human beings, regardless of what's going on between you two at a professional level.
However, be careful not to ask specific questions such as "¿Cómo te llevas con tu esposa?" (Do you and your wife get along?) You want to sound nice and caring, not nosy and out of line!
Si necesitas algo, no dudes en llamarme – If you need anything, don't hesitate to call me
Showing that you are available and open to further discussion is a very nice way to end a meeting, a phone call, or a work lunch. Using this Spanish phrase will help you come across as approachable and friendly.
With the Spanish expressions above, you will be able to improve communication during international meetings and show your coworkers that you really care about improving your relationships.
→Sign Up Now: Free Trial Spanish Lesson With a Native Teacher!←
If you want to go beyond Spanish business phrases and start working on things like fluency, pronunciation, and intonation, you've come to the right place.
At Listen & Learn, we work with fully qualified native Spanish tutors who specialize in tailor-made lessons for professional learners. Just send us a quick message telling us about your learning goals and we'll come up with a personalized lesson plan to suit your every need!