2020 has been the weirdest year in a long time. On the one hand, the ongoing Covid-19 pandemic has led to the suspension of most television production from mid-March 2020 onward. But on the other hand, this disruption took place at a time when the only thing most people could do was stay at home and watch TV.
Luckily, because most shows spend a long time in the editing room before they hit the small screen, this year we still got to enjoy some great stories that had been shot before production companies were shut down. From Ratched to Freud, streaming platforms managed to offer a great variety of shows to their idle, entertainment-starved audience.
So, what are the best TV productions to have premiered in 2020? No one better than you to make the final choice! Below, you will find the top 3 shows according to our social media followers.
Emily in Paris
Emily in Paris is the story of a young woman from Chicago who moves to Paris after receiving an unexpected job opportunity. For reasons that she doesn't fully understand, the CEO of a distinguished French marketing firm thinks she might be the right person to provide an American perspective to his venerable company.
The show follows Emily as she tries to adjust to the challenges of a new life in a foreign city while juggling her personal and professional problems.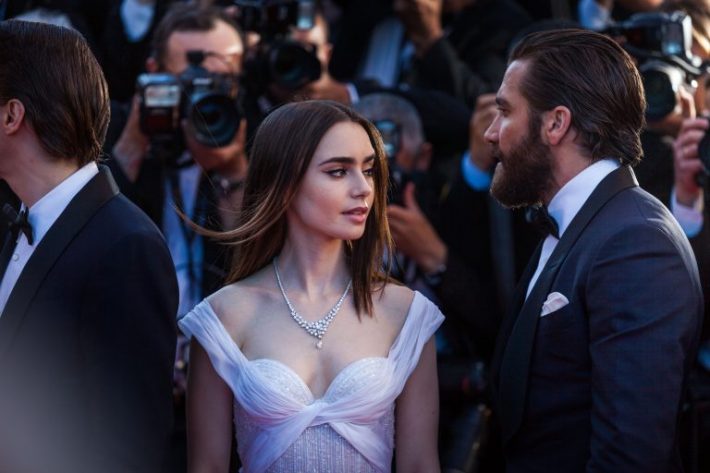 As soon as she arrives in Paris, one of the biggest difficulties Emily has to face is that she doesn't speak a word of French, yet she is tasked with a role that greatly depends on the nuances of successful communication. As Emily struggles to make herself understood in a new language, you, as an audience, get to follow her on her journey and learn from her mistakes. For example, one of the first things Emily learns is that some words that seem to be one-to-one French-English equivalents are actually false friends.
As you can imagine, she learns this the hard way. During a business meeting, for example, Emily shows her excitement by saying that she is very excitée. However, it turns out that this word, which looks and sounds just like the English adjective, actually means horny. Can you imagine how embarrassed she was when she learnt what she'd just said? (If you want to know what other things you shouldn't say in French, make sure you check this post.)
But dealing with false friends is not Emily's only linguistic concern. She also has a hard time coping with grammatical gender. While English doesn't distinguish between masculine and feminine nouns, French uses gendered forms for almost every word. Emily, of course, finds all these rules annoyingly unpredictable. For instance, she's puzzled (and upset!) when she finds out that le vagin (the vagina) is a masculine noun. ("But why", she asks. "Why!?")
Dark
Dark is a German sci-fi thriller that gained enormous popularity after it was acquired by Netflix back in 2017. In the aftermath of a young boy's disappearance, the series follows characters from the child's hometown on their quest to find the truth.
Known for the intricacy of its narrative, Dark explores profound themes such as the nature of time, and how it affects human beings.
Although the show uses complex language to deal with equally complex subject matters, there are some recurring elements and concepts that can teach you some basic German words along the way.
One of the most interesting leitmotifs in the show is the bunker that is behind the Doppler's shack, a mysterious passage that connects different worlds.
The bunker = Der Bunker /bunka/ (singular)
Die Bunker /bunka/ (plural)
As you can see, the German word has the same spelling as its English counterparts. However, you might have noticed that the German version is capitalized. This is a major punctuation difference between the two languages. In German, all nouns take capital letters, no matter what position they take in a sentence.
Another recurring element is the show is that of the darkness, both as a concept and as a visual device.
The dark = Die Dunkelheit
Although it's ironic that the most popular German show in the world has an English title, the choice of the word "Dark" might be the most appropriate one for a show that deals with the search for the truth about the disappearance of a child.
La Casa de Papel
La casa de papel, known in English speaking-countries as Money Heist, is a Spanish crime television series developed by Álex Pina. The show follows the preparation of an epic heist led by a mysterious man known as "the Professor".
In the first season, the Professor recruits eight people to carry out a dangerous plan that involves breaking into the Royal Mint of Spain and escaping with €2.4 billion. Things, however, don't go smoothly.
What is interesting about this show is that most of the conflicts in the plot have less to do with the demands of the titular heist, and more to do with the clash between these people's personalities.
Since most of the main characters come from very different cultural backgrounds, throughout the show you get to hear a wide variety of accents, among them Andalusian, Murcian, and Argentinean.
If you want to learn Spanish by watching La casa de papel, however, we strongly suggest you avoid the dubbed version and play the show in Spanish with Spanish subtitles. You will not only learn lots of vocabulary about crime, but you will also get to hear lots of current, informal expressions that you would find in everyday conversation in most Spanish-speaking countries. Besides, because this show is on Netflix, you can pause or jump back ten seconds any time you want to rehear and repeat useful phrases.
For a full article on how to learn Spanish with La casa de papel, please click on this link.
Have you watched any of these shows? Is there any other programme that you think should be on this list? Feel free to comment below.
Last but not least, remember that, although these shows are great learning companions, the best way to learn a foreign language in depth is by taking a course with a native tutor. At Listen & Learn, we offer online courses in dozens of languages designed to suit your preferences. All you have to do is visit our website now and choose your target language. We'll pair you up with a native tutor in no time so you can start working on your fluency as soon as possible!