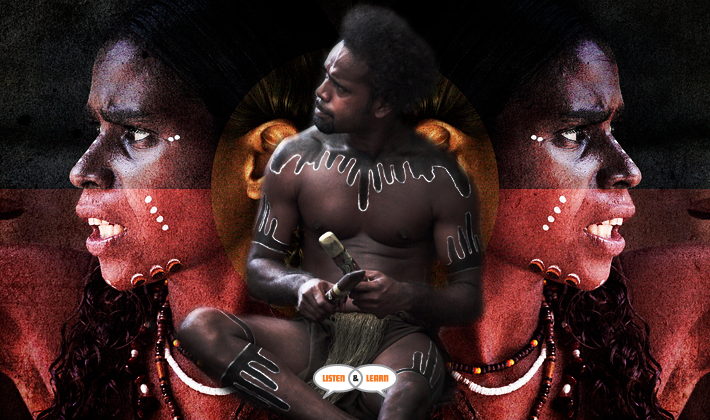 In our recent language investigations of the place we have affectionately named Down Under, we have discovered a wealth of languages both known and previously unknown that have piqued our interest. Last time we looked at the more familiar top languages spoken across  Australia, so this time we have decided to focus on the treasures that are those indigenous languages we are yet to know much about.
Join us?
The original polyglots
Prior to what is in some circles referred to as The Invasion of us Europeans, the Aboriginal peoples of Australia could easily converse in up to five distinctly different dialects of the languages forming part of some twenty-seven language families and isolates. Linguist Ghil'ad Zuckermann of Adelaide University refers to the subsequent slaughter of that language richness as linguicide, and sadly it seems that this is a valid accusation.
Despite language initiatives to preserve and revive Aboriginal languages, their oral traditions often means that many indigenous languages die out with their last remaining speaker, and that the vast majority of those remaining are considered endangered or vulnerable to the risk of extinction.
A linguistic treat…
Before we take a look at the languages themselves, and it will be a brief look because there are still so many of them alive and desperately kicking despite our rather mournful outlook, here are a few things they have in common. Australian languages from Sprachbunds, or areas, with much shared vocabulary and distinctive phonological features that like much of Australia's wildlife are endemic to the continent.
Avoidance speech, a series of special speech registers that are only used between close relatives, are a shared feature across many of the Australian languages with generally similar phonology and grammar yet using a vastly different lexicon that distinguishes between each individual language. On top of this there are certain speech taboos observed during periods of mourning or initiation, which in turn have led to a few Aboriginal sign languages as well.
Typically, Australian languages use just three vowels that may be used in long or short form depending on the particular language or actual words spoken. These languages are, on the whole, entirely free of fricative consonants, and another unusual feature not generally seen in languages elsewhere in the world is the large number of places of articulation in native speaker's mouths: either phonemically- or allophonically-speaking there are four articulation points in the coronal region, and this articulation is accomplished by both the tongue position and its shape.
This is what you came for
Well thank you, Rhianna. Indigenous languages are, according to census reports, still considered to be a main language for around 50,000 people in Australia: excluding those already extinct, here is a list of what those languages are – and we may even be missing some!
A-H:
Adnyamathanha, Alawa, Alyawarre, Amarag/Amurdag, Ami, Andajin, Andegerebinha, Anindilyakwa, Anmatyerre, Antakirinya/Antakarinya, Arabana, Arrernte, Atampaya, Australian Aboriginal English/Australian Aboriginal Pidgin English, Australian Kriol, Awabakal, Badimaya, Bandjigali, Banjima/Panytyima, Bardi, Barrow Point Bayungu, Broome Parling Lugger Pidgin, Bundjalung/Bandjalang, Bunuba, Dhargari, Djinang, Dyaabugay/Djabugay, Dyirbal, Gajerrong/Gadjerawang/Gajirrabeng, Gambera, Gamilaraay, Ganggalidda/Ganggalida, Garawa,Garig-Ilgar, Giyug, Gooniyandi, Gudanj, Gugadj, Gugu Badhun, Gugubera/Koko-Bera, Guguyimidjir/Guugu Yimithirr, Gumbaynggirr/Kumbainggar, Gundungurra, Gungabula, Gunin, Gunya, Gupapuyngu, Gurindji Kriol, Gurrgoni/Guragone, Guwamu, Guwij  
Highlights: There are over 30,000 speakers of Australian Aboriginal English and thought to be only one of Amarag, with Anmatyerre showing a recovery and listed as developing, and both Gurindji Kriol and Broome Parling Lugger Pidgin developing post-contact. Awabakal was once thought to have been extinct but in its revival has now had its status changed to dormant.
Learning a new language? Check out our free placement test to see how your level measures up!
I-P
Iwaidja, Jaminjung/Djamindjung, Jardwadjali, Jaru, Jawoyn, Jingulu/Djingili, Jurruru, Kabi Kabi, Kala Lagaw Ya, Kalaamaya, Kalaku, Kamu, Kaniyang, Kanju/Kaantju, Karajarri/Karadjeri, Kariyarra, Kaurna, Kaurna, Kawarrangg, Kayardild, Kija, Kokata, Kok-Nar, Kukatja, Kuku Thaypan, Kuku Yalanji Kuku-Mu'inh, Kuku-Muminh, Kuku-Ugbanh, Kuku-Uwanh, Kullili, Kuluwarrang, Kunbarlang, Kunggara, Kunggari, Kunja, Kunjen, Kunwinjku, Kurrama, Kuthant, Kuuk Thaayorre, Kuuku Ya'u Kuurinji/Gurindji, Kuyani, Lairmairrener, Lamu-Lamu, Laragia, Lardil, Larrakia, Limilngan, Linngithigh, Lower Burdekin, Luthigh, Matngele/Madngele, Malgana, Malyangaba, Manda, Mandandanyi, Mangarla/Mangala, Mangarrayi/Mangarayi, Mangerr, Mara/Marra Maranunggu, Margany, Maridan, Marimanindji, Maringarr, Mariyedi, Marrisyefin/Maridjabin, Marrithiyel/Marithiel, Marti Ke, Martuwangka, Martuyhunira/Martuthunira, Maung, Maya, Mayaguduna, Mbabaram, Mbara, Mbariman-Gudhinma, Mbiywom, Meriam Mir, Miriwoong/Miriwung, Miwa, Mpakwithi dialect, Mpalityanh, Mudburra/Mudbura, MalakMalak/MullukMulluk, Muluridyi, Munumburru, Muruwari, Nakkara, Nauo, Ndjébbana, Ngaanyatjarra, Ngaatjatjara, Ngadjunmaya, Ngadjuri, Ngalakan, Ngaliwuru, Ngalkbun/Dalabon, Ngamini, Ngandi, Ngangikurunggurr, Ngan'gityemerri, Ngardi, Ngarinman, Ngarinyin,Ngarluma, Ngarnawu, Ngarnka, Ngawun, Ngkoth, Ngumbarl, Ngunawal, Ngurmbur, Nhanta, Nhuwala, Nijadali, Nimanbur, Ntra'ngith, Nuenonne, Nungali, Nunggubuyu, Nyamal, Nyangga, Nyangumarta, Nyawaygi, Nyikina/Nyigina, Nyininy, Nyulnyul, Nyungar, Naakantyi, Pakanha, Paredarerme, Peerapper, Peramangk, Pini, Pinigura, Pintupi, Pitjantjatjara, Pitta Pitta, Plangermaireener, Pyemmairre
Highlights: almost all of the languages listed here are either critically or severely at risk of extinction. Paredarerme, Peerapper, Plangermaireener and Pyemmairre are spoken exclusively in Tasmania, and Kokata only in the Western Desert.
Q-Z
Rembarrnga, Ritharrngu, Tharkarri, Thaua, Thiin, Tiwi, Tommeginne, Toogee, Tyaraity, Tyerremotepanner, Umbindhamu, Umbugarla, Umbuygamu, Umiida, Umpila, Unggarangu, Unggumi, Uradhi, Urningangg, Uw Olkola, Uw Oykangand, Waanyi, Wadjiginy, Wadjigu, Wagaya,Wagiman/Wageman, Wajarri, Wakawaka, Walangama, Walbanga, Walmajarri, Wambaya, Wamin, Wandandian, Wangaaybuwan/Wangaaybuwan-Ngiyambaa, Wangai, Wanggamala, Wangganguru, Wangkajunga, Wangkumara/Ngura, Wanyjirra, Waray, Wardaman, Warlmanpa, Warlpiri, Warluwara, Warnman/Wanman, Warrgamay, Warrungu, Warrwa, Warumungu, Warungu, Western Desert, Wik Me'nh,Wik Mungkan, Wik Ngathan, Wik-Epa, Wik-Iiyanh, Wik-Keyangan, Wik-Me'anha, Wik-Ngatharr, Wikngenchera/Wik Ngencherr, Wilawila, Winyjarrumi, Wiradjuri/Wiradhuri, Wirangu, Woiwurrung, Wolyamidi, Worimi, Worrorra/Worora, Wulna, Wunambal, Wurla, Yandruwandha, Yankunytjatjara, Yan-nhangu/Jarnango, Yanyuwa, Yawarawarga, Yawijibaya, Yawuru, Yidiny, Yiiji, Yindjilandji, Yinggarda, Yinhawangka, Yinwum, Yir-Thangedl, Yorta Yorta, Yukulta, Yulparija, Yuwaaliyaay  
Highlights: The most widely-spoken language in this list is Tiwi, thought to have around 1700 speakers and yet still listed as vulnerable. Confusingly, Yinggarda is also known as Inggarda, Ingara, Ingarda, Ingarra, Ingarrah, Inparra, Jinggarda, Yingkarta and Kakarakala depending on which research you are reading, and the Yidiny language doesn't help either, in places listed as Idin, Idindji, Idinji, Jidindji, Yetinji, Yiddinji, Yidin, Yidindji, Yidini and Yitintyi as well!
Our look over Australia's languages over the past few weeks has barely skimmed the surface; there is just so much more out there to explore. We hope you have enjoyed our little foray and that you pay this beautiful continent a visit soon!