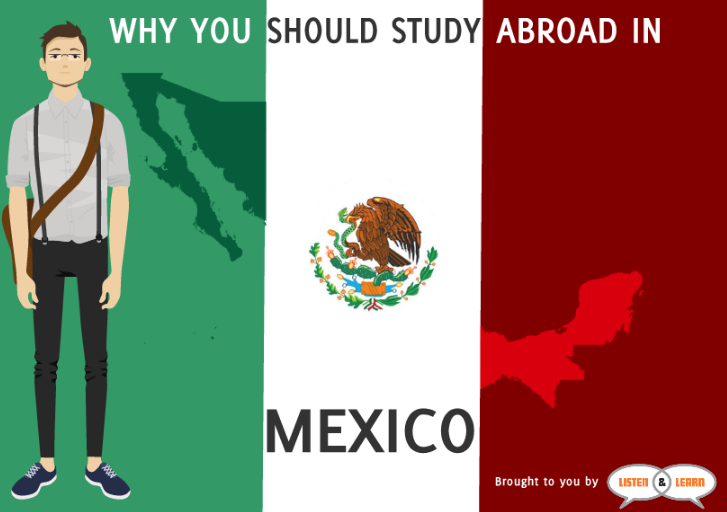 Studying abroad is one of the best things you can do while at university. Not only does it broaden your horizons and teach you about a new culture, it's also an amazing experience that will give you lifelong memories. One destination you should consider is Mexico, with its great weather, friendly locals, and an array of universities to choose from.
Still not convinced? Take a look at our 7 reasons why you should study abroad in Mexico:
1. You'll Get to Learn Spanish
Spanish is one of the top 5 most widely spoken languages in the world, making it pretty useful to learn. What better way to learn this Latin language than by immersing yourself in Spanish for a semester? Besides, Mexican Spanish is full of wonderfully colourful expressions (not to mention very creative curse words).
Want to see how much you already know? Test yourself with our free Spanish level test!
2. You'll Also Have the Option of Studying in Your Own Language
If you haven't learnt Spanish yet, don't let that deter you. Many Mexican universities, even outside the capital, offer classes in English, which is a rare thing for universities in non-English speaking countries. These classes are also attended by locals who are working on their English, so you'll still have plenty of opportunity to mingle with native Spanish speakers.
3. It's a Feast…
Tacos, enchiladas, quesadillas, mole, tamales, and extra hot salsa on everything… hmmm! Don't be fooled by Tex Mex standards – real Mexican food is even better than you imagined. Wash it down with plenty of tequila, or other local agave spirits, Mezcal and Pulque. When you can't face these anymore, try some refreshing horchata or aguas frescas. Just be careful, with all the delicious food and ample local brews, your mind won't be the only thing expanding on this study abroad experience!
4. …and a Fiesta!
Mexicans know how to fiesta! Whether you're spending the evening drinking some cerveza in a cantina, dancing in one of the hottest clubs in Condesa in Mexico City, or celebrating one of the country's great festivals, you can be sure it'll be a good time. Chant ¡Viva Mexico! along with a couple of thousand Chilangos in your city's zocalo (central plaza) on Mexican Independence Day, and honour the dead on Día de los Muertos (Day of the Dead).
5. Enjoy the Easy Visa Process
With so many countries making student visas harder to get, Mexico is a welcome exception. If you're studying for less than 6 months, you can simply study on a tourist visa. If you're planning on staying longer than a semester, you need to apply for a visa. After being accepted into your university of choice (choosing which one is probably the hardest part of the process), take your acceptance letter, along with your passport, proof of financial solvency and passport photos to your nearest Mexican embassy. Check with your country's consulate if you require additional documents, and ask about your fee, as this cost varies depending on your nationality. All in all, the process is quick and painless, not to mention cheap, costing between USD$17-30.
6. You'll Get to Explore Ruins, Beaches and Tropical Forests
The cheaper cost of living in Mexico, along with much cheaper university costs than elsewhere in world (not including some private universities), means you can use your money to get to know the country a bit better. Mexico is home to amazing cultural and natural attractions, so don't limit yourself to the gringo haven of Cancun. The influence of advanced ancient civilizations like the Aztec, Maya and other indigenous populations has left Mexico with a rich cultural heritage and many incredible archaeological sites, making it a history buff's dream destination. Add to that spectacular nature and you're spoilt for choice. Use your time in the country to visit the ruins of Tulum, the jungle paradise in Chiapas, the charming pueblo of San Miguel de Allende, the surfer towns on Oaxaca's coastline, and Chichén Itzá's renowned Mayan ruins.
7. …and Perhaps Even Study on a UNESCO Heritage site.
UNAM (Universidad Nacional Autónoma de México) is not only Mexico's highest ranking university, but it also has a beautiful and sprawling campus which has been declared a UNESCO heritage site thanks to its architectural design and combination of modern and traditional elements.
So what are you waiting for? Don't limit your studying experience to your home university. Take a risk, hop on a plane and start expanding your horizons in an unfamiliar environment! To make your transition a bit smoother, contact us for help learning Spanish.